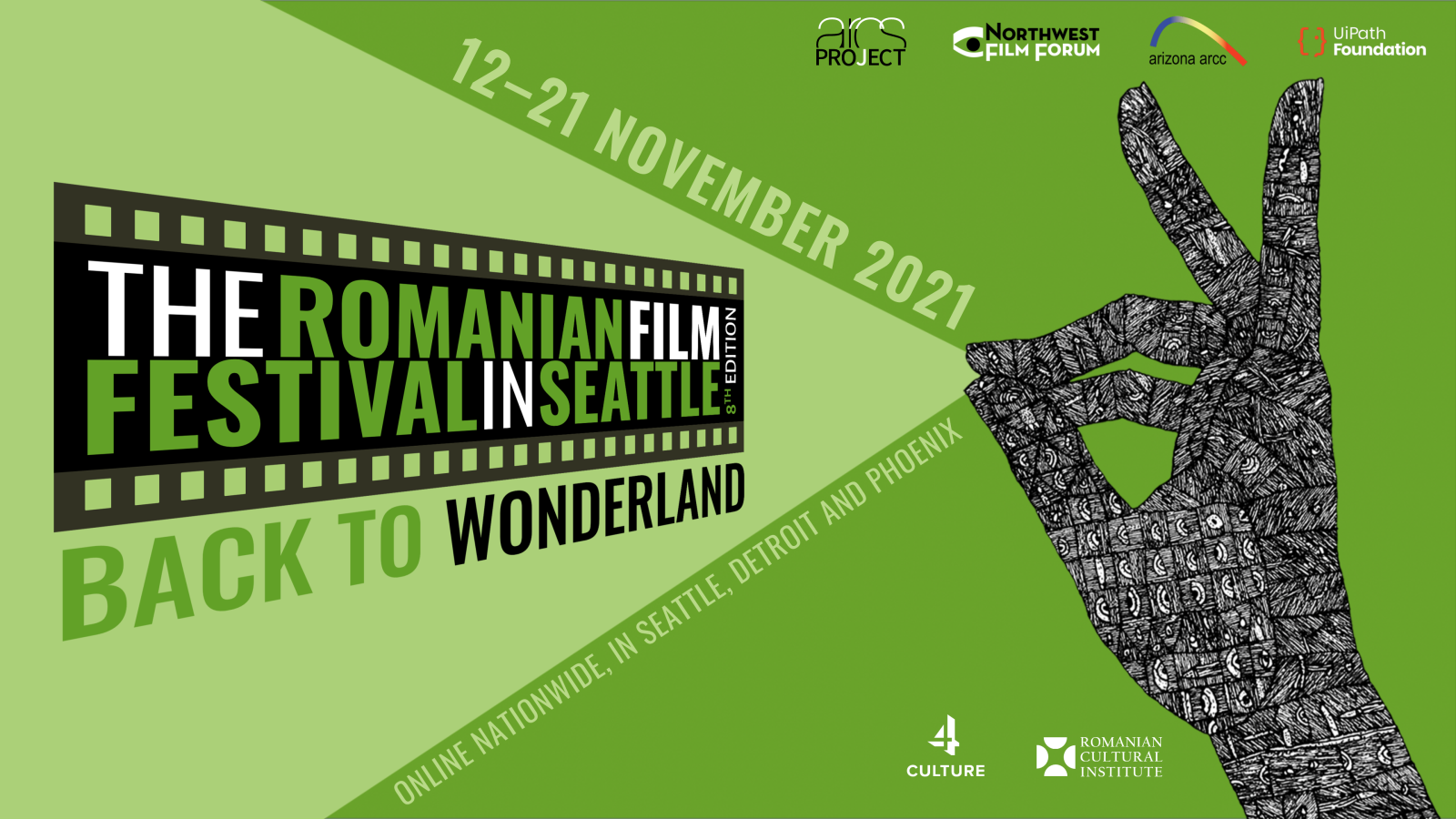 THE ROMANIAN FILM FESTIVAL, 8TH EDITION: "One Eye Laughing, One Eye Crying: Back to Wonderland"
WHEN: NOVEMBER 12-21, 2021
WHERE: Northwest Film Forum (online platform)
After a successful virtual edition in 2020, the Romanian Film Festival in Seattle brings you back to Wonderland, this time with exclusively new film productions from Romania and Europe, showcasing the creative spirit and resilience of young, or more established directors. Moreover, the festival expands with a new branch in Detroit and a partnership with Arizona Romanian Film Festival. More details will be shared soon.
Daniel Ursache has worked his magic again designing the visual concept of the 8th edition of the festival. Get comfortable under the dim light of your home screen or projector for a two-week feast of films that you can watch together with your loved ones between November 12-22, 2021.
We will offer you virtual opportunities to interact with local, national and international special guests. Stay tuned to find out about our exciting partnerships, line-up, guest list, and schedule.
In the meantime, please support our fundraising efforts. Let's keep the story going for the 8th time!
Festival Official Partners and Co-Organizers:
Festival Institutional Partners:
Fundraising Campaign
Thank you for your generosity! Our goal is to raise $10,000 to cover costs associated with programming, publicity, technical support and film distribution rights. We will keep the fundraising campaign open on our website and Facebook, in case you would like to help us ensure the continuity of the Romanian Film Festival throughout these challenging times.
How much would you want to donate?
Checks are welcome. Please address them to:
American Romanian Cultural Society
1931 E Lynn St
Seattle, WA 98112
Festival ambassador · $500 and more
Gabriel and Teodora Ghizila
Mary Sherhart
Cosmin and Elena Catrinescu
Zaha Wolfe
Andreea Larhs
Festival benefactor · $250 and more
Isabella Fu and Radu Palanca
Gabriel and Raluca Hera
Alexandra Dorca and Richard Pavy
Tudor and Otilia Baraboi
Festival supporter · $100 and more
Ligia Cicos
Ciprian and Maria Gerea
Dana and Catalin Cozmei
Alexandrina Maicaneanu and Radu Simionescu
Michele Anciaux Aoki
Carl Winter
Ioana Danciu
Monica Ene-Pietrosanu
Constantin Parvulescu
Helene Kaplan
Ionela Popescu
Corina Walker
Festival friend · $50 and more
Daniel Lebu
Ana Muresan
Nora Chiran
Ileana Barbu
Special thanks · $25 and more
Oana Mihaela
Mihai Codoban
Many thanks · $10 and more
Cristina Amaral
Cristiana Grigore
Daciana Branea
Marius Ra
Dan Henderson