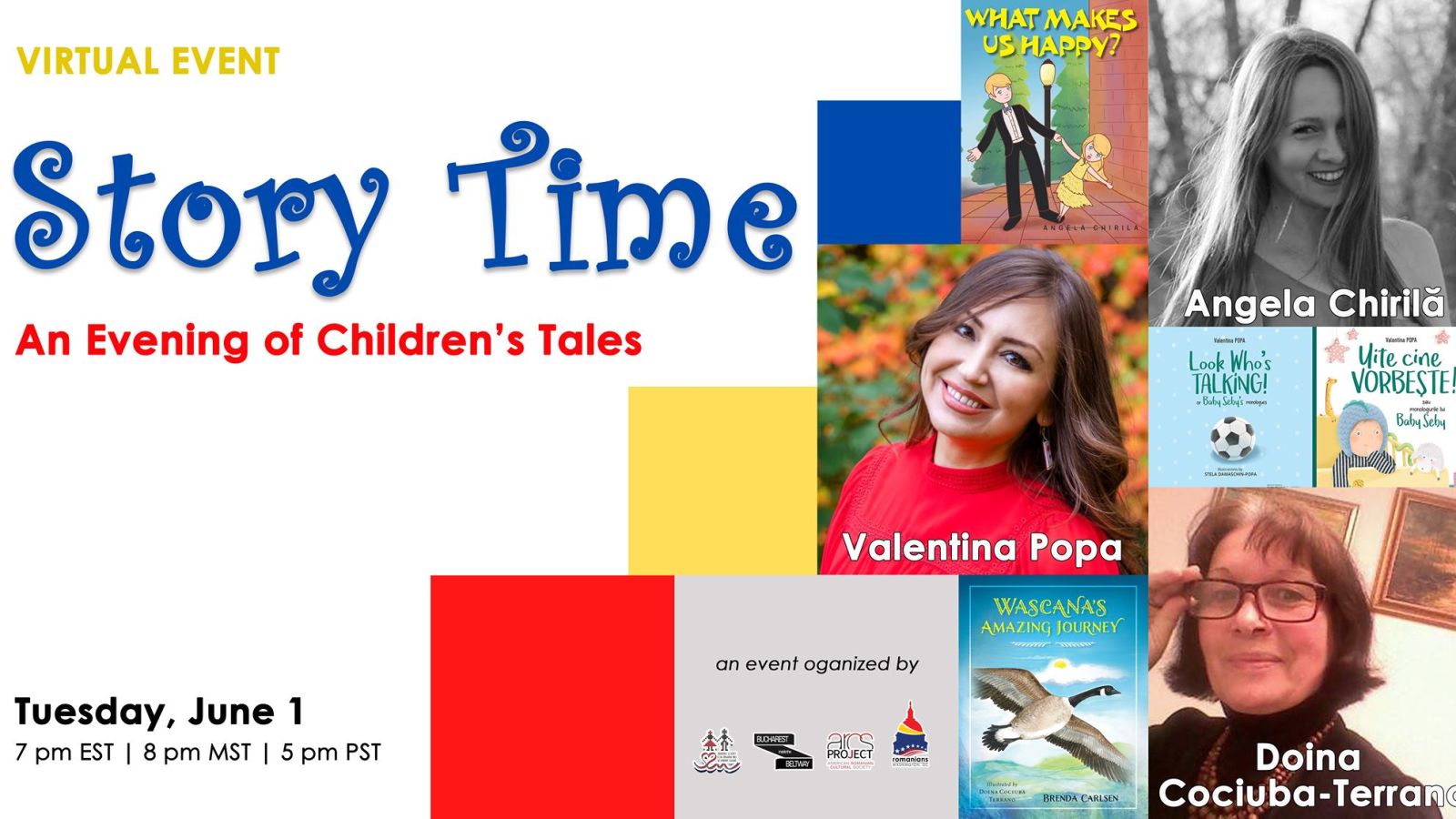 We have the pleasure of inviting you to "Story Time – An Evening of Children's Tales" featuring authors and illustrators originally from Romania and the Republic of Moldova. The virtual event is being organized to mark Children's Day, celebrated on this day in Romania and Moldova and will feature Valentina Popa from New York, Angela Chirilă from Denver and Doina Cociuba-Terrano from Olympia (WA). It is brought to you by Romanians of DC, Authentic Society for Language and Romanian Culture, Bucharest Inside the Beltway and the American Romanian Cultural Society.
You may register for the zoom event HERE
or you can follow the live broadcast on the Facebook pages of the hosting organizations. The event will be in English with the exception of Valentina's story which will be available on Zoom in both Romanian and English (on separate audio channels).
Special Guests:
Angela Chirilă is a Moldovan Denver-based artist and author who studied English and Italian at the State University of Moldova. After finishing her studies, she lived in Rotterdam, the Netherlands and then moved to the United States where she has lived for the past nine years. Since she was little, she loved books and art and now she is passionate about creating stories and drawing illustrations. Angela is also a preschool teacher and has worked with kids for the past ten years. Her inspiration comes from interacting with young children every day. Her main wish is to inspire others through her children's books and her art and to bring a strong and positive message to the world.
"What Makes Us Happy" by Angela Chirilă was published in March 2020 and sends a positive message, not only for kids but for adults too. It reminds us about the little things that make us happy (a hug, a kiss, a ladybug, a sunset in the sky). What makes us happy is a very important question that each of us should ask every day and also we need to show our kids how important is to pay attention to the little things that matter the most. Ultimately the book is a reflection of Angela's philosophy that we need to be more present in the now and appreciate every moment and also teach our kids to do the same.
Doina Cociuba-Terrano, a native of Arad, Romania, has been painting ever since she was in kindergarten. After graduating from an arts vocational high school she studied Arts and Literature at the North University of Baia Mare, Romania. While at university and after graduating in 1978 she went on to exhibit her work in a number of group shows. She had her first solo exhibition in 1990 followed by a two more in 1994 and 1998. She moved to the U.S. in 1999, opened her own business, Ocean Gallery and art school and has worked ever since as educator, freelance artist and published book illustrator. Doina began illustrating children's books back in 2010 and two of her books have been selected for various awards for the quality of their illustrations and the originality of their stories. She wrapped up illustrating her most recent book just a few days ago when she submitted the graphics to the publisher.
Brenda Carlsen, a third generation Romanian, grew up in Regina, Saskatchewan, Canada and played along the shores of Wascana Lake, where hundreds of geese called their home during the summer. She currently lives in Washington State where she pursued a career as a nurse. Brenda has always loved writing stories and has had a vivid imagination even when she was a child; it has carried on through adulthood and is now reflected in her writings. She has been a member of the Society of Book Writer's and Illustrators (SCBWI) since 2015 and has attended awesome conferences and conventions.
"Wascana's Amazing Journey" is an inspiring story of a Canada goose. While flying to the warm south for the winter with his friends and family, one of his wings becomes injured. Jojo, a young boy, discovers the injured goose, and with patience and playfulness, Wascana's wing becomes strong again. Wascana's Amazing Journey spreads the message of healing, kindness, compassion and friendship.
Valentina Popa is working in the Executive Office of the Secretary-General of the United Nations. She has studied Romanian and French language and literature at the State University of Moldova and has received her Master Degrees in International Relations from the Academy of Public Administration of Moldova and in International Political Economy and Development from Fordham University in New York. Her post-graduate studies in Emerging Markets and Country Risk Analysis were completed at Folke Bernadotte Academy in Sweden. A Laureate of numerous national popular music contests, she subsequently appeared on various stages in Moldova and abroad, in exclusively benefit concerts, besides her husband, tenor Luciano Lamonarca. She currently resides in New York City, with her husband and son, Sebastian, her inspiration for her book.
"Look Who's Talking! / Uite cine vorbește!" by Valentina Popa is a bilingual English / Romanian poem book featuring Baby Seby's imaginary monologues. Written in rhyme, the poems are sweet and heartwarming, exuding love and humor. During the first months as a new mom, Valentina was imagining the potential monologues that may occur in her baby boy's little head as he was becoming aware of the surrounding world and his own existence. Inspired and overwhelmed by that all-encompassing love, those reflections came to her in rhymes, so she collected them into this illustrated book for moms and their babies. For the customs illustrations, Valentina partnered with an internationally renowned illustrator, Ms. Stela Damaschin-Popa, winner of the highest distinction in the field, the Hans Christian Andersen award, also called "The Little Prince Nobel". Proceeds from the sale of the book are donated to an impactful charity, "The Moldova Project", whose vision is "for every child in Moldova to have a family, a safe home, an education and the opportunity to be happy".