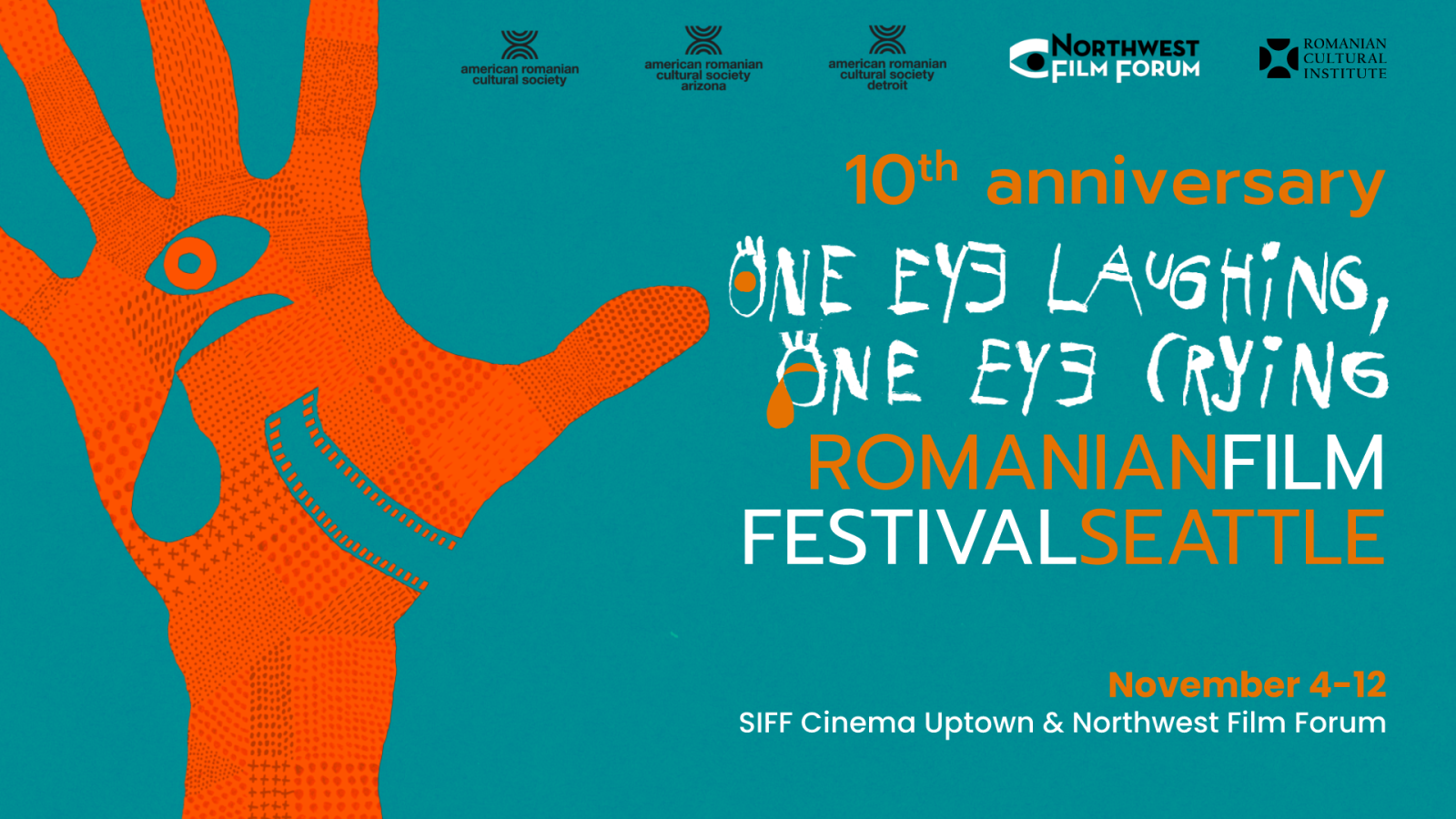 The Romanian Film Festival Seattle is excited to celebrate its 10th anniversary edition this year. Running Nov. 4-12, the festival will mark the return to SIFF Uptown Cinema Nov. 4-5 (its home until 2020), and will continue the following weekend at Northwest Film Forum. Not in Seattle? We'll have a great selection of films online as well!
Started in 2014 with the scope of bringing Romanian cinema to audiences in Seattle, the festival has adapted and blossomed over the years. It soldiered through the pandemic, thanks to a loyal audience that followed it as it transformed to a virtual program. This year it continues to enjoy a hybrid format, with an online selection available in the continental US and in-person screenings at SIFF Cinema Uptown and Northwest Film Forum.
Through the years, each edition has brought thought-provoking and award-winning productions from Romania and Eastern Europe, giving a platform to upcoming and established directors alike.
This year's theme "One Eye Laughing, One Eye Crying" is a nod to its first edition in 2014 – the duality of the Romanian spirit that propels it forward in spite of constant hardships. The first year saw an overwhelming success following a grassroots effort to mobilize the Romanian community in the greater Seattle area.
This year's nuanced edition celebrates the rich cultural fabric of Romania, while exploring current topics with the unflinchingly honest perspectives that fans of the festival have come to expect from Romanian cinema. The program will comprise of critically-acclaimed films and newly released films, and featuring special guests from Romania.
Daniel Ursache, the graphic artist behind the festival posters over the years, has once again turned his creative eye to reflect the unstopping energy of the festival.
Mark your calendars and let's keep the story going!
If you have a business or reprezent an organization, please check out our sponsorship package and let us know if you would like to benefit from our advertising opportunities.
Festival Official Partners and Co-organizers:
Festival Institutional Partners:
Supporting Sponsors:
Festival Ambassadors:
Please follow the Festival on social media!
Fundraising Campaign
Thank you for your generosity! Our goal is to raise $20,000 to cover costs associated with programming, publicity, technical support and film distribution rights. We will keep the fundraising campaign open on our website and Facebook.
How much would you want to donate?
Checks are welcome. Please address them to:
American Romanian Cultural Society
1931 E Lynn St
Seattle, WA 98112
Taxi Drivers by
Bogdan Theodor Olteanu
2023, , 0 minutes
When
Nov. 4, 2023 at 12:00 AM - 12 Nov. 2023 at 11:59 PM
Synopsis
One night. Ten stories. A single city. Lică – the 'know-it-all' taxi driver – and Liviu – the 'radio silent' taxi driver – are good friends, although completely different, and their views on the world and life only intersect at the shawarma place. However, both are frustrated with the job they hope would earn them a decent living and maybe some savings until they find something better. For Lică, money comes first. For Liviu, it's a more spiritual kind of fulfilment. At least until each of them starts thinking more about what they have, who they are, and what they can do with their lives. For them, a night shift across Bucharest is a true adventure where they meet people of all kinds – from young party goers and white collars to celebrities, DJs and even some shady individuals.
Expand
Men of Deeds by
Paul Negoescu
2022, , 0 minutes
When
Nov. 4, 2023 at 12:00 AM - 12 Nov. 2023 at 11:59 PM
Synopsis
Ilie, a small-town police chief, wants to build a modest, comfortable life for himself, but ends up making the wrong choices. Middle-aged and alienated, he feels the need to a part of something - to build an orchard, even a home. Although dubious things happen in the village, Ilie only sees what suits him. The moment he gets involved in the village marks the beginning of his collapse. In a vacuum of solutions, he tries to be what he has never been before: the justice seeker who arrests everyone guilty.
Expand
Playback by
Iulia Rugină
2023, Documentary, 0 minutes
When
Nov. 4, 2023 at 12:00 PM - 12 Nov. 2023 at 12:00 AM
Synopsis
Playback follow Sorin Lupașcu, a well-known DJ during Romania's communist years in his attempt to remain visible in the present. The film slides back and forth through archival footage and a music-laden soundtrack, subtly revealing the transformations of an Eastern European society over the past 50 years.
Supporting sponsor · $1,000 and more
Mihai and Gabriela Aluas
Cosmin and Elena Catrinescu
Festival ambassador · $500 and more
Dana and Catalin Cozmei
Gabriel and Teodora Ghizila
Andreea Larhs
Tracy Sharpe and Roxana Arama
Alexandrina Maicaneanu and Radu Simionescu
Mary Sherhart
Festival benefactor · $250 and more
Gabriel and Raluca Hera
Tudor and Otilia Baraboi
James Augerot and Ileana Marin
Festival supporter · $100 and more
Smaranda Lieuallen
Cristian and Ana Maria Ilac
Carmen and Bogdan Rautu
Michele Anciaux Aoki
Carl Winter
Lavinia Serban
Helene Kaplan
George Roth
Claudia Jensen
Festival friend · $50 and more
Georgiana Lucache
Magda Nica
Sheila Speirs
Many thanks · $10 and more
Cristina Amaral
Tatiana Chihai