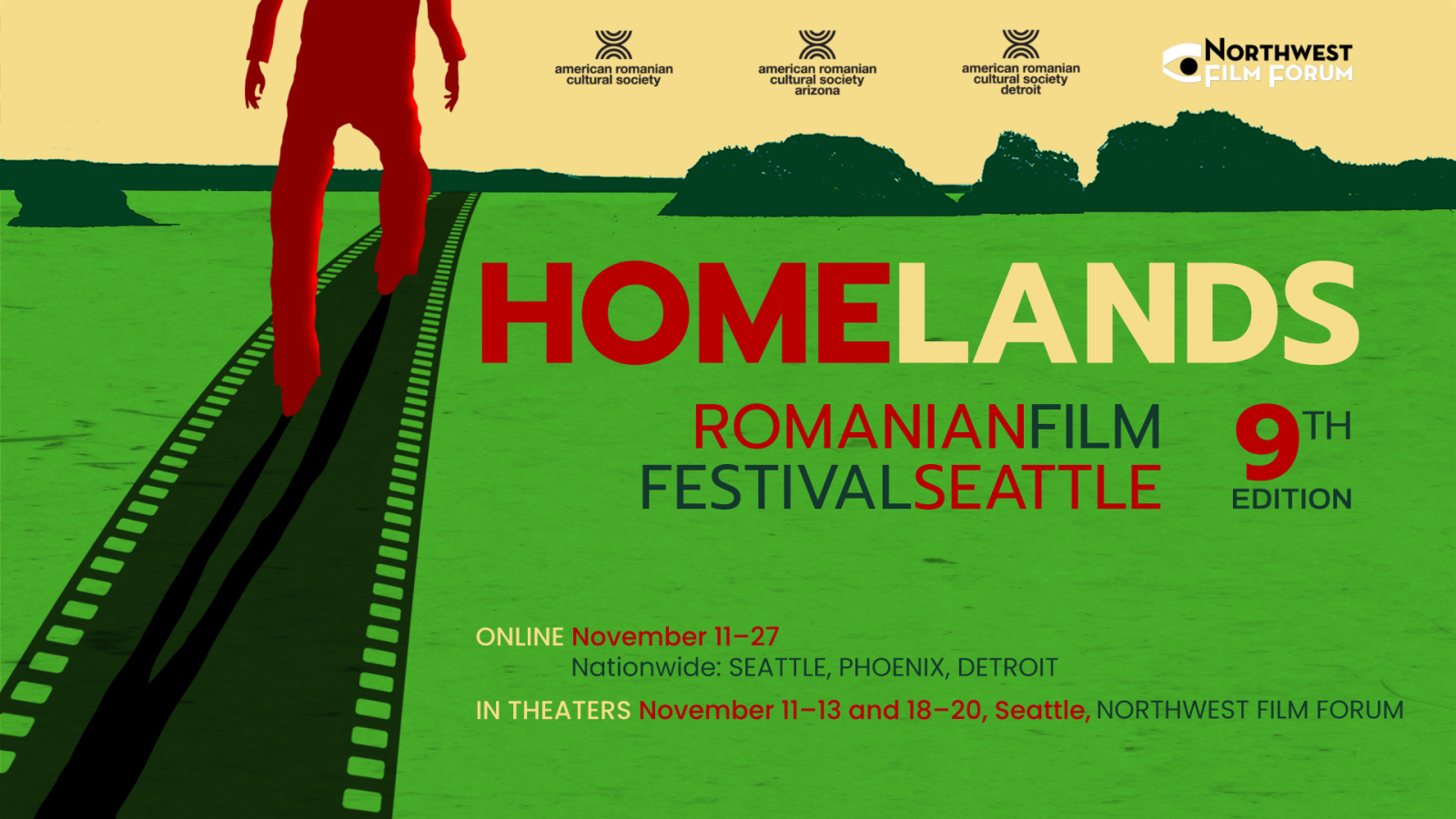 THE ROMANIAN FILM FESTIVAL, 9TH EDITION: "HomeLands"
WHEN: NOVEMBER 11-27, 2022
The 9th edition of the RFF titled Homelands reflects on this year's current events, while celebrating the power of film to map out new meanings into a world where people have been displaced by wars, economic crises, political instability, and natural disasters. The internationally acclaimed movies featured in our carefully curated selection, covering all forms and genres, as well as our film related events with special guests, will redefine our sense of homelands and belonging, in relation to our families, neighbors, countries of origin, and, by extension, to our planet itself. As Daniel Ursache's poster illustrates, movies remain, year after year, our main path and answer, when everything else seems out of place.
After two successful virtual editions in 2020 and 2021, the festival will continue to showcase the best of the newest film productions from Romania and Europe, promoting outstanding directors, both established and up-and-coming. It will also keep its partnership with Northwest Film Forum, Romanian Film Fest Arizona and its sister-organizations ARCS Arizona and ARCS Detroit. The Romanian Film Festival Arizona, will have its in person screenings November 19-20 at Majestic Tempe 7 in Tempe, AZ.
We will offer you virtual opportunities to interact with local, national and international special guests.
Stay tuned to find out about our exciting partnerships, line-up, guest list, and schedule.
In the meantime, please support our fundraising efforts. So far we raised $2,359 through Facebook and the ARCS website and we could not be more grateful to you. Our goal is to raise $15,000 in two months. Let's keep the story going for the 9th time!

If you have a business or reprezent an organization, please check out our sponsorship package and let us know if you would like to benefit from our advertising opportunities.
Festival Official Partners and Co-organizers:

Please follow the Festival on social media!
Fundraising Campaign
Thank you for your generosity! Our goal is to raise $15,000 to cover costs associated with programming, publicity, technical support and film distribution rights. We will keep the fundraising campaign open on our website and Facebook.
How much would you want to donate?
Checks are welcome. Please address them to:
American Romanian Cultural Society
1931 E Lynn St
Seattle, WA 98112
Supporting sponsor · $1,000 and more
Tracy Sharpe and Roxana Arama
Festival ambassador · $500 and more
Betty and Jeff Gossett
Mary Sherhart
Festival benefactor · $250 and more
Tudor and Otilia Baraboi
James Augerot and Ileana Marin
Festival supporter · $100 and more
Dana and Catalin Cozmei
Ionela Popescu
Nora Chiran
Festival friend · $50 and more
Carmen and Bogdan Rautu
Michele Anciaux Aoki
Georgiana Lucache
George Roth
Magda Nica
Andrew Heffron
Special thanks · $25 and more
Cristina Amaral
Adriana Cordali
Many thanks · $10 and more