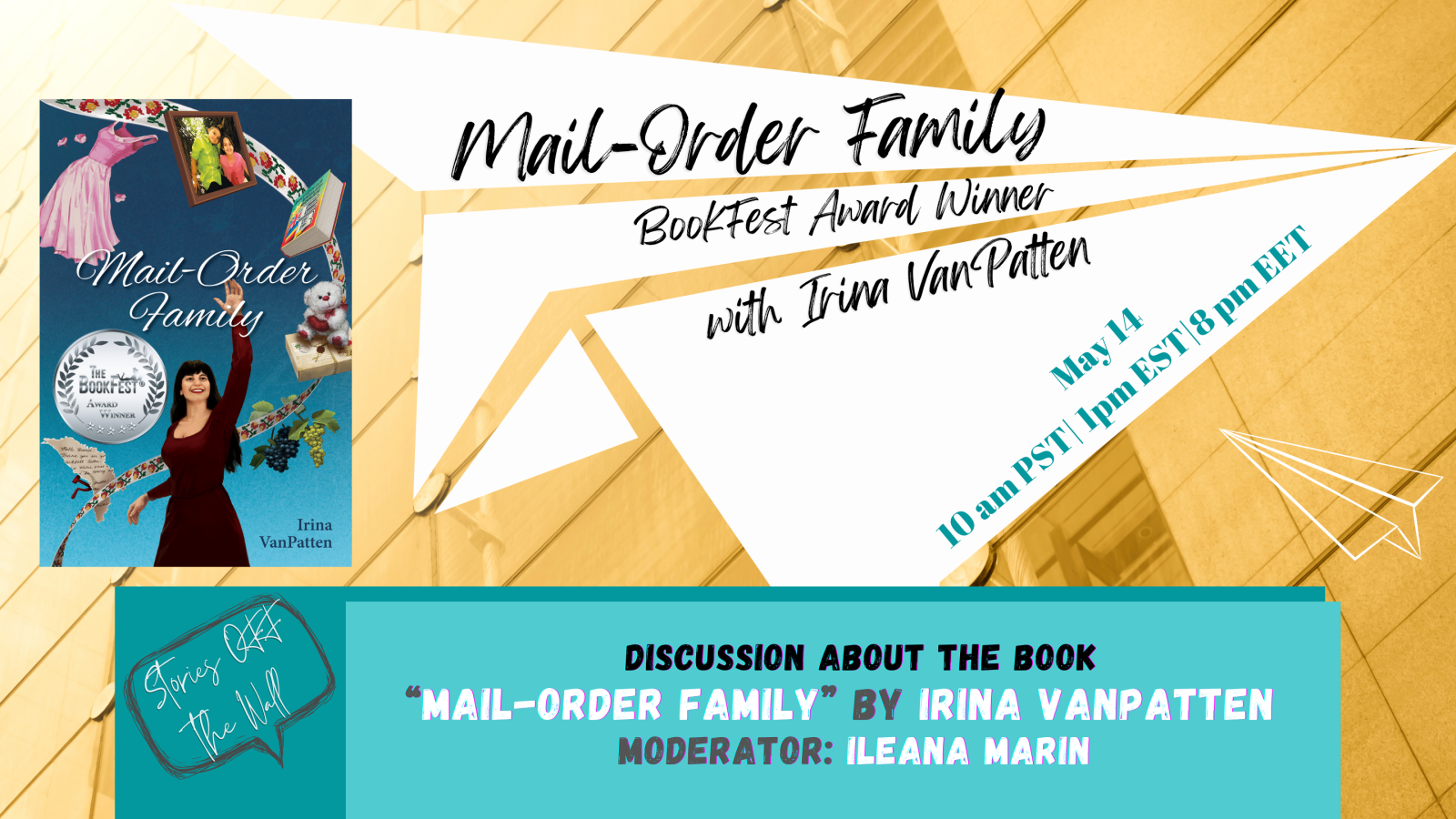 Irina VanPatten
Irina VanPatten is an American Pacific Northwest writer born in a small Eastern European country called Moldova. Her writing style marries the best of these two worlds. She draws from the rich roots of her culture but bakes her own American literary cake with a blended sense of humor: sharp yet warm; edgy yet tender. She brings her perspective of past life experiences from behind the Iron Curtain, creating a unique blend of East versus West points of view in her writing.
Her most recent book is Mail-Order Family - a Silver Award winner at the Spring 2022 BookFest book festival in a very tough category True Story/Memoir which had a lot of competition this year. Mail-Order Family is a humorous, charming and relatable tribute to Irina's family's resilience and a heartfelt love story about two misfits literally two worlds apart.
She also writes on immigration subjects. She is the author of the book Welcome to America, Welcome Home, which is based on multiple interviews with American immigrants of different backgrounds and cultures. Experts, lawyers, professors, activists, refugees, and asylum seekers share their personal stories and reveal the hardships of those who try to assimilate and succeed in America.
Her other passion is writing for the English-Romanian language magazine Hora in America, which focuses on stories from Romanian and Moldovan communities but lately included also the Ukrainian community, reporting on personal stories of the Ukrainians dealing with the war at home.
She volunteers as a translator for the Northwest Immigration Rights Project, collaborating with the division that takes on cases under the Violence Against Women Act and signed up with World Relief to host refugee families from Afghanistan and now is ready to host Ukrainian refugees too.
Irina VanPatten's website: https://irinavanpatten.com/
Mail-Order Family can be purchased from the author directly from the author's website at:
https://irinavanpatten.com/mail-order-family
Or on Amazon at:
https://www.amazon.com/Mail-Order-Family-Irina-VanPatten/dp/1598493108/ref=sr_1_1?
Read more
Ileana Marin, Ph.D.
Ileana Marin teaches interdisciplinary courses at the University of Washington in Seattle and at the Center of Excellence in Image Studies at the University of Bucharest. Her long-standing academic career on both sides of the ocean has given her the opportunity to establish contacts between Romanian and American scholars, artists, and institutions. She, thus, initiated the first UW Exploration Seminar to Romania, and to Eastern Europe, and opened the fund for Romanian Studies, hoping that Romanian language will be taught regularly in Seattle. With a BA in Romanian and a PhD. in Comparative Literature from the University of Bucharest (2000), and one in Textual Studies from the UW (2011), Ileana is a strong believer in the power of education and bilingualism. In ARCS, she advocates the expansion of the Romanian language programs in the US and for disseminating the most recent Romanian cultural achievements. On her agenda as president, Ileana Marin has two major tasks: board development and recruitment to ensure the successful implementation of ARCS mission through meaningful programs.
Read more